IN THIS ISSUE:

1. 2007 AFI Fest - No-Budget Wrap-Up
2. Sony PMW-EX1 HD Camcorder
3. DVDs Of Great No-Budget Films
4. Newsletters To Subscribe To
5. Upcoming Events To Attend

1. 2007 AFI FEST - NO-BUDGET WRAP-UP

The recently concluded AFI Fest is commonly regarded as LA's "second best" film festival, after the June-set Los Angeles Film Festival (to read my wrap-up of the 2007 LAFF, visit: http://www.nobudgetfilmschool.com/id11.html). Ironically, while taking the word "Independent" out of their title has certainly made the Los Angeles Film Festival a less indie-oriented film festival, taking the word "International" out of AFI's name, (they were formerly more commonly known as the AFI Los Angeles International Film Festival) has only made them more of a world cinema event. This re-focusing has been a very shrewd move on the part of the new AFI Fest programmers. MORE...

2. SONY PMW-EX1 HD CAMCORDER

SONY PMW-EX1
Panasonic HVX Killer?
SXS PRO MEMORY CARDS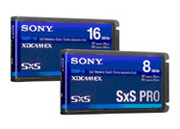 50 min. recording time on 16GB card
My trip to last week's HD Expo was a lot of the same old thing, with one BIG exception, the introduction of Sony's new affordable HD camcorder, the PMW-EX1, (or EX for short). Sony's long-awaited answer to Panasonic's successful HVX-200, the new EX packs a tremendous number of exciting features into a small and inexpensive package. Like the HVX, the EX records onto solid state flash memory cards. These cards, however, are based on the new PCMIA Express standard (officially called SxS PRO cards), and are faster, smaller, and potentially less expensive than the Panasonic P2 card, which is based on the old PCMIA standard. While you have to find an old Powerbook G4 to use your P2 card, new Mac Powerbooks are equipped with an ExpressCard slot. I was told that an 8GB SxS card downloads in about 90 seconds--that's fast! Because Sony has licensed the technology to Sandisk, there's more than one company making these cards, potentially keeping the price down. The EX has two SxS slots.
EX Lens Close-Up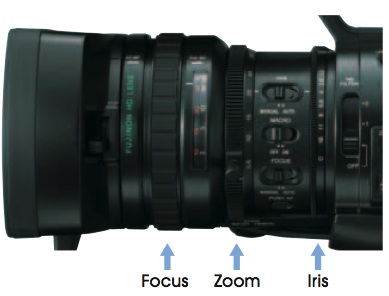 Three separate rings
Another big advancement are the imaging devices--three 1/2" (not the typical 1/3") CMOS sensors capture a full raster 1920 x 1080 pixels, enough to qualify the camera as CineAlta. In theory, you should be able to achieve a shallower depth of field with these larger sensors. The camera is also a superior low-light camera. The Fujinon 14x lens is unique--it features two types of manual focus. Push the focus ring forward and the lens acts like a typical manual/auto focus lens; push the ring backwards and the lens has an absolute focus position, similar to a professional interchangeable lens. This lens also offers three independent rings for each of focus, zoom and iris control, again giving the user more professional usability.

EX1 GRIP CLOSE-UP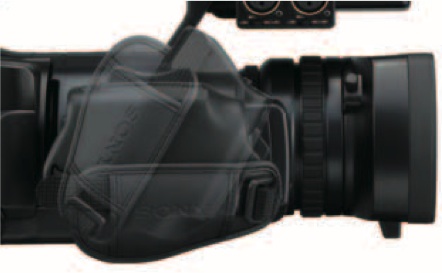 Unique rotating grip
Like the HVX, the EX records uncompressed PCM audio. It offers true slow and quick motion, interval recording (for time lapse), frame recording (for stop-action animation) and a useful function called Shot Transition, a feature I always liked on the Sony Z1. Most importantly, the camera offers true 24p capture (actually 23.98); in 1920 x 1080 mode, it can record in 23.98 native, which means it only lays down 24 frames onto the memory card eliminating the need for your editing system to throw out flagged fields. There's also a clever rotary grip, a cool pull-out monitor, HD-SDI out, and some other nice bells and whistles.
EX1 MONITOR CLOSE-UP

Fold out monitor stores under the handle
The drawback? The camera records using Sony's XDCAM HD format, which utilizes an interframe MPEG-2 Long GOP compression scheme. Similar to HDV, though offering a higher bit rate in HQ mode (35Mbps vs 25Mbps), the efficient codec gives you high quality images in a small amount of space. A 16GB card yields 50 minutes of record time in HQ mode. This is all great, but then you start talking to post people about the best way to workflow this format and no one seems to know. Fortunately Sony offers handy application software for use with PCs and Macs, which make it easy to manage your clips, and FCP can edit this format natively, but there are issues down the post chain with an interframe codec that you don't have to worry about with an intraframe format like the HVX's DVCPRO HD.

Of course, I wouldn't even be writing about this product if it were not for the price. At HD Expo, VTP, a retailer in Burbank representing the camera for Sony, were offering the EX for $6449.0/0, which includes one 8GB SxS card supplied and another free card from Sony as part of a limited-time promotion. So, for a couple a thousand less than an HVX, you can get this 1/2" chip, true HD, 24pn camera with 50 minutes of record time.

Panasonic, your move...

For more information about the camera, visit:
Sony EX1

For sales and to kick the tires, contact:
VTP - Craig Webb, Sales
2721 W. Magnolia
Burbank, CA 91505
(818) 566-9898 x269
(800) 851-3113 (toll free)
www.vtpcorp.com
3. DVDS OF GREAT NO-BUDGET FILMS
"DEAR PILLOW"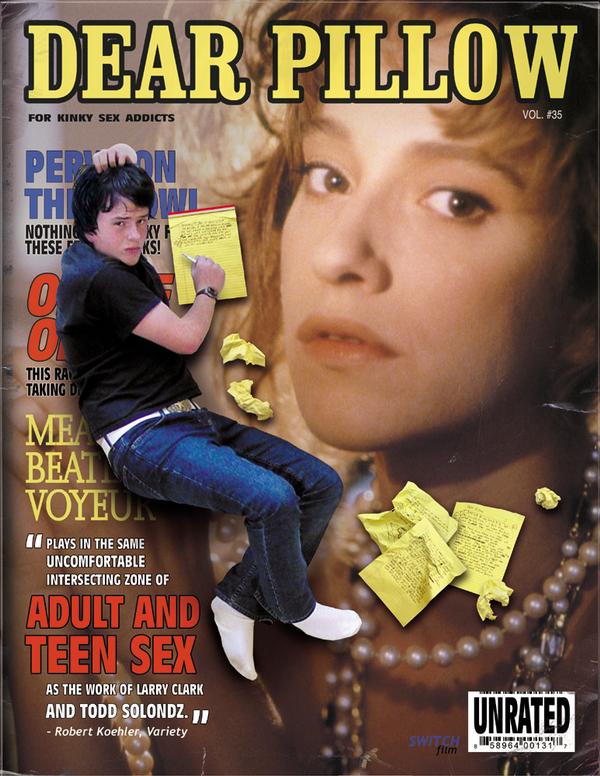 Directed by Bryan Poyser
DVD's of several great no-budget features that I have written about are now (or soon to be) available on DVD to buy or rent:

"Dear Pillow," directed by Bryan Poyser, was shot in Austin for $3,800 and was such a hit on the festival circuit in 2004 that it garnered Poyser a coveted Someone To Watch Spirit Award nomination. Despite not receiving distribution, Poyser and his producing partner Jacob Vaughan were able to make their next feature on someone else's dime for $1 million. A great film that I have been showing clips from for two years, "Dear Pillow" is finally available for the rest of the world to see via Heretic Films, a new home video distributor specializing in high quality independent films. You can rent from Netflix or Blockbuster online, or purchase through Amazon. Visit the site for direct links and more information:

www.dearpillow.com

"CONVENTIONEERS"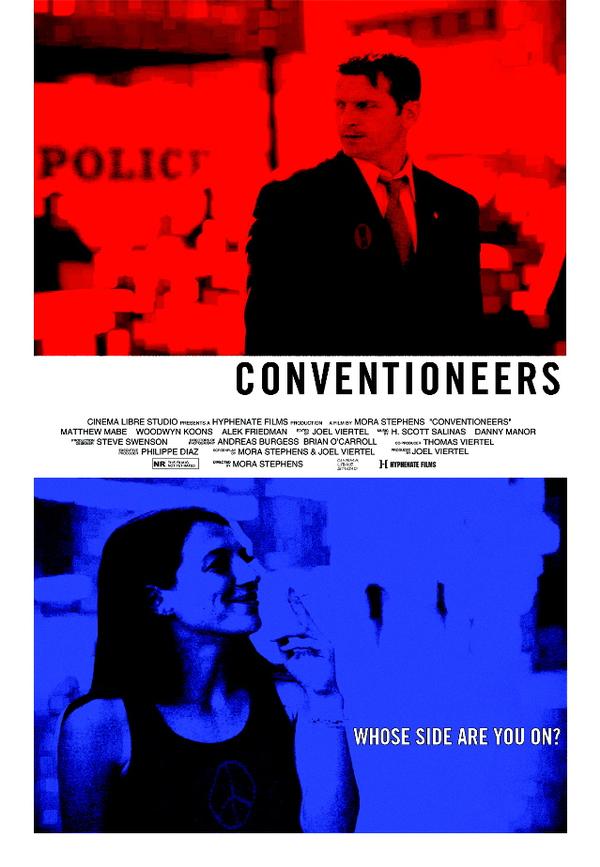 Directed by Mora Stephens
For my recent class in Kansas City, I invited producer Joel Viertel to speak on behalf of his film, "Conventioneers," directed by his wife Mora Stephens. Another one of my favorite no-budgets from the last three years, this film is criminally under-seen, despite getting a small theatrical distribution. Thankfully it is now available on DVD and the timing couldn't be better--the $20,000 feature is set during (and within) the 2004 Republican National Convention making it a great movie to see during the current election season. "Conventioneers" captured the coveted Cassavettes Award during the 2006 Spirit Awards, given to the best narrative feature made for under $500,000, (and beating out "Brick" in the process). Visit the website for more information and links on how to purchase:

www.conventioneersmovie.com



"BLOOD CAR"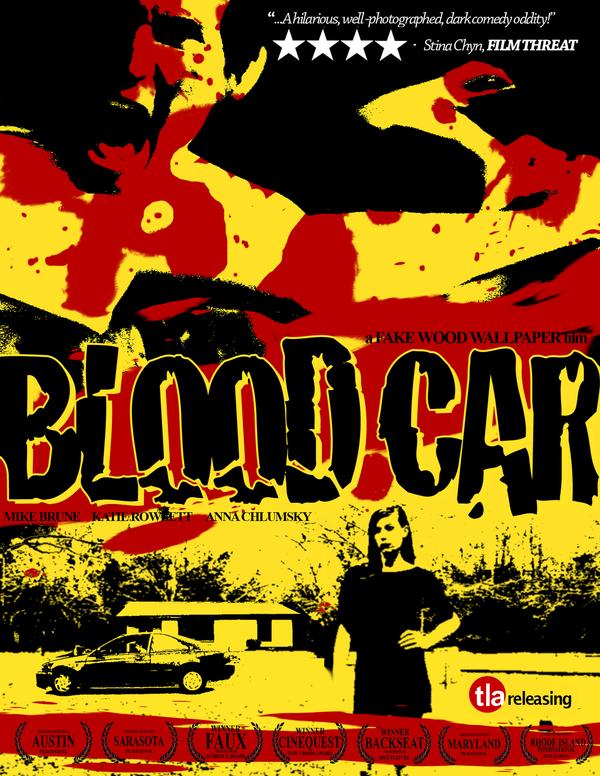 Directed by Alex Orr
In the Atlanta class I taught earlier this year, guest speaker Alex Orr detailed the making of "Blood Car," his politically tinged horror comedy set in the near future about a car that runs on blood, (when gas prices get too high). Shot with an F900 for only $25,000, the production values and the hilarious amount of blood will impress you. The DVD came out a couple of weeks ago.

www.bloodcar.com





"SEVERED WAYS"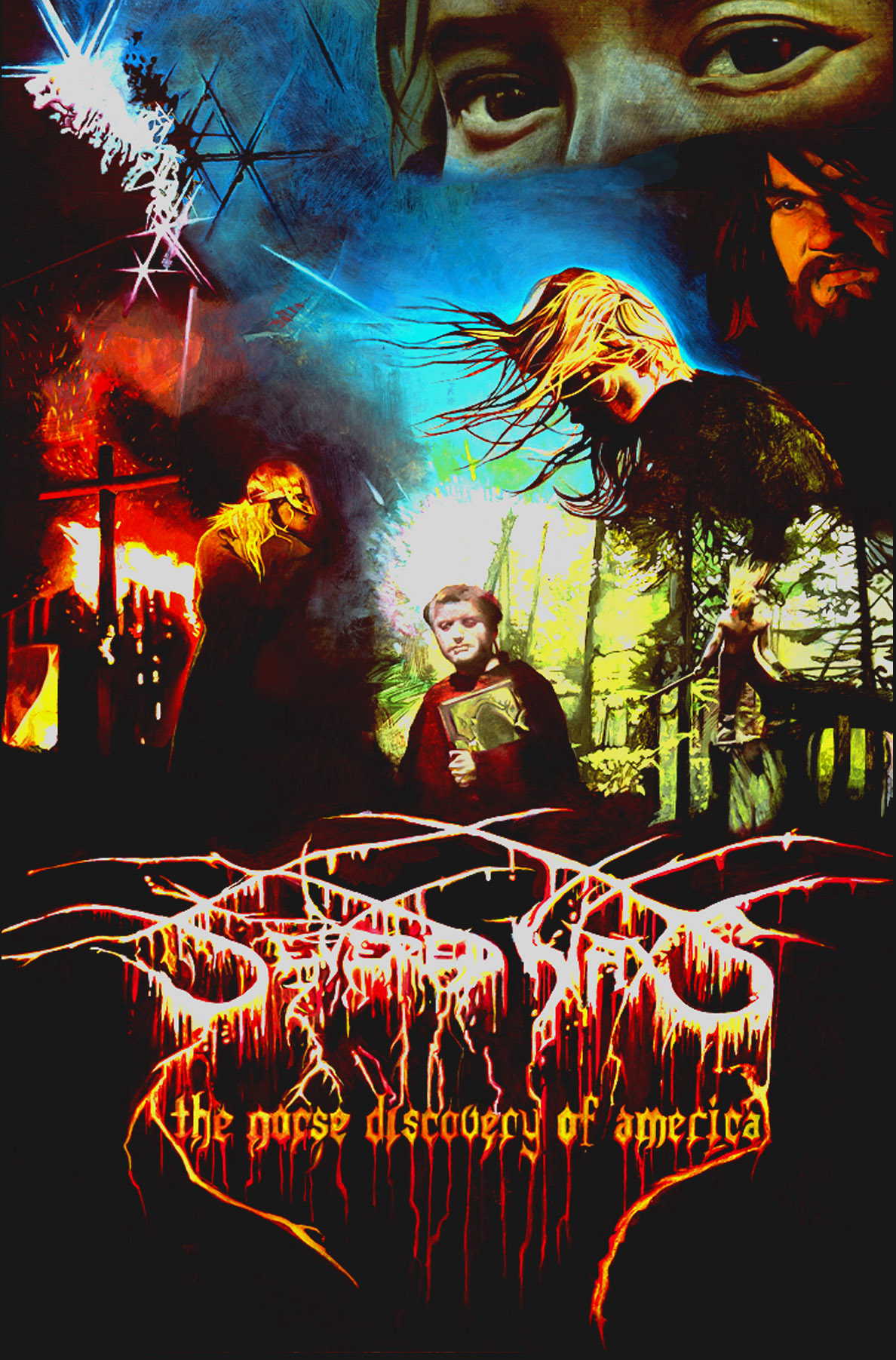 Directed by Tony Stone
A kind of cult hit at this year's LAFF, Tony Stone's improbable "Severed Ways: The Norse Discovery of America," a period piece set in 1000 AD shot for no money on a standard def Panasonic DVX-100, in a 2.35 aspect ratio, no less, has been picked up for distribution by
Magnolia Pictures' new genre arm, Magnate. A DVD release date should be announced soon.

www.severedways.com






"MURDER PARTY"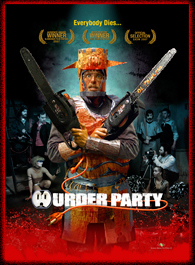 Directed by Jeremy Saulnier
And not quite a no-budget film, but certainly a very low-budget film, Jeremy Saulnier's hilarious and very clever horror comedy "Murder Party"
is also being released through Magnate. I just saw it with a sold-out audience at the Sidewalk Film Festival, where Jeremy won the Filmmaker To Watch Award, (he previously won Best Narrative Feature at this year's Slamdance). Even if you think you don't like "horror" films, you'll want to check this one out--it's a real winner. The film is currently available for sale and rental:

www.murderpartymovie.com





To read my write-ups of the above films, please visit:

No Budget Films Page

4. NEWSLETTERS TO SUBSCRIBE TO

Three great newsletters every one of you should subscribe to, (I promise, they are shorter than mine!):

"Head Trauma" director and Web 2.0 expert Lance Weiler's DIY List--an email tip sheet on projects, software, hardware, tips and tricks:

www.workbookproject.com

Alternative distribution strategist and consultant Peter Broderick's Distribution Bulletin:

www.peterbroderick.com

If you're more of a low-budget filmmaker, rather than a no-budget filmmaker, (shame on you!), you'll want to receive Axium's quarterly U.S. Production Incentives Update:

Email: incentives@axium.com and type "SUBSCRIBE" in the subject line


5. UPCOMING EVENTS TO ATTEND

Check out the new Sony camera and many other valuable developments at this year's DV Expo West, December 4-6 at the LA Convention Center. To register, visit:

www.dvexpo.com


The American Cinematheque's next educational seminar, "Unraveling Independent Film Distribution," will be held at 7:30pm on December 4th at the Aero in Santa Monica.

Email Margot Gerber for more information: publicity@americancinematheque.com


HAVE A GREAT THANKSGIVING HOLIDAY! Shit, make a movie about it!


=======================
This e-mail publication is intended for subscribers only. However, we encourage you to forward it. We grant you permission to re-publish and further distribute this message in its complete form only.

The fact that you are receiving this email probably means that you signed up to receive the No Budget Newsletter at some point, or you joined the No Budget Film Club, or you took a class at the NO BUDGET FILM SCHOOL. On certain rare occasions, I may have temporarily added you to the distribution list because I thought you might find this content interesting. If you would like to unsubscribe, please reply with the word UNSUBSCRIBE in the subject line of your email.

An e-mail confirmation will be sent when you are officially removed from the Newsletter mailing list. If you experience difficulty unsubscribing or you're interested in changing e-mail addresses, please send your request to: nobudgetfilmschool@earthlink.net